A Professional Environment
Our program is based on combining education with professional sports coaching.
We have designed a program that will improve all aspects of your game, ensuing not only that you are a better athletes, though that you have a better understanding and more mature outlook as an athlete and a person.
With some of the best coaches in the UK, or in Malta, the Edusport Academy has developed a reputation for being one of the best, most respected academies in the country and is the only private academy in the UK to have membership of a FIFA association. We are also very proud to have to have been awarded a FIFA Level 2 training category.
Physical Training
Your development as an athlete involves various types of training. Mental, tactical and technical are the obvious ones, though in modern sport the physical element has never been more important.
To ensure maximum development each athlete is given a bespoke physical conditioning program to follow, not only to guarantee optimal performance though also to ensure that our athletes stay healthy and avoid injury.
Our athletes have unlimited access to our state of the art conditioning suite which is less than a 5 minute walk from the accommodation.
Lifestyle
As you know, an athlete must have a healthy lifestyle to maintain and develop.
At the start of the year, nutritionists will explain how and when to eat, hydrate, sleep, according to your schedule for matches, workouts, and rest time.
Your food budget, given quarterly by the academy, allows you to buy everything you need for a healthy diet and consistent with your pace of high performance athlete.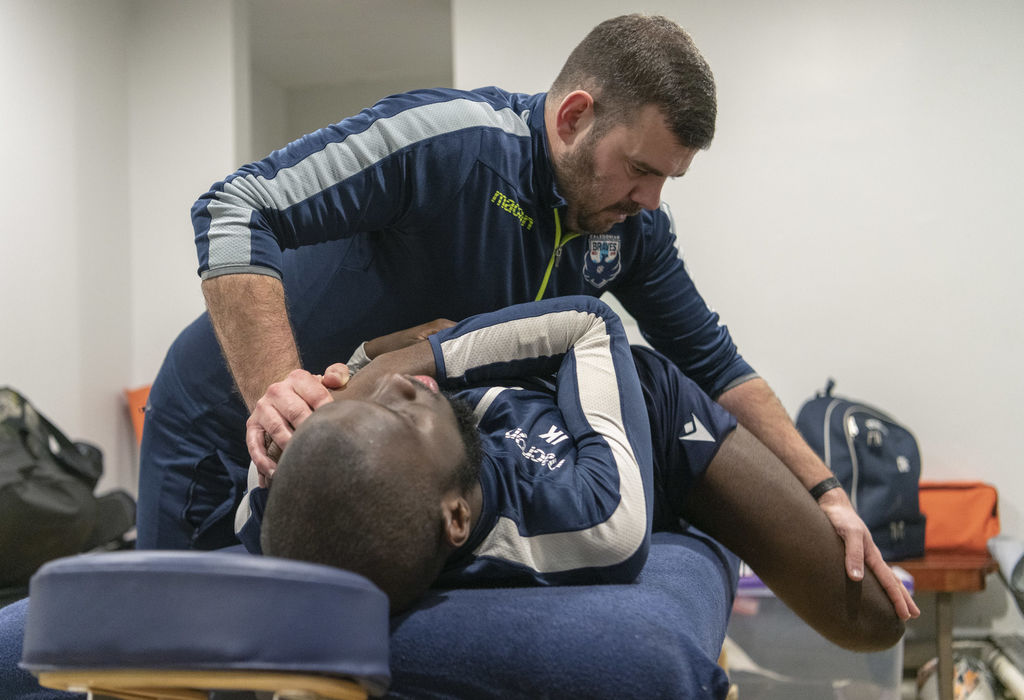 Physiotherapists
To prevent injury, treat muscle fatigue, small injuries and sometimes more serious ones, we have a team of qualified physiotherapists and sport therapists at the academy. Our physiotherapists are present at training sessions or at the clinic located at the gym, 5 minutes walk from the accommodation.
It is important that our players arrive at the academy in good physical condition as for the most part, our players are making the transition between an amateur to a professional environment and their bodies need to be ready.
In the unlikely event of a serious injury, we can propose an insurance that can see the Academy fees refunded pro rata.
A Typical Week
Going abroad, discovering a new culture , learning a new language, and pushing your limits to achieve your goals is a big step, though if you want to secure a better future and give yourself the best opportunities in life then it is one which is truly worth it.
The timetable of each sport section may differ slightly but in general, a typical week at the academy will look something like this :
MONDAY
Morning - English, Afternoon - Training, Evening - Gym
TUESDAY
Morning - English, Afternoon - Training, Evening - Video Analysis
WEDNESDAY
Morning - English, Afternoon - Training/ Matches, Evening - GYM
THURSDAY
Morning - English, Afternoon - Training, Evening - Homework
FRIDAY
Morning - Homework , Afternoon - Training, Evening - Matches
SATURDAY
Afternoon - Matches
SUNDAY
Off - Go discover Glasgow and Scotland or Malta and its beautiful beaches !
Filmed Matches
CV Video
Our matches at the Academy are filmed. Usually this is by our media team or our latest video technology VEO.
Our VEO devices make it possible to film matches automatically: thanks to its artificial intelligence, the device tracks the ball and the actions, and we can then quickly isolate the sequences of interest. Learn more about VEO Technology
These videos are invaluable tools for video analysis sessions and contribute to each players video profile video at the end of the year. The profile video is a highlight reel that can be used for self analysis, or in most cases be sent to coaches and scouts across Europe and the USA.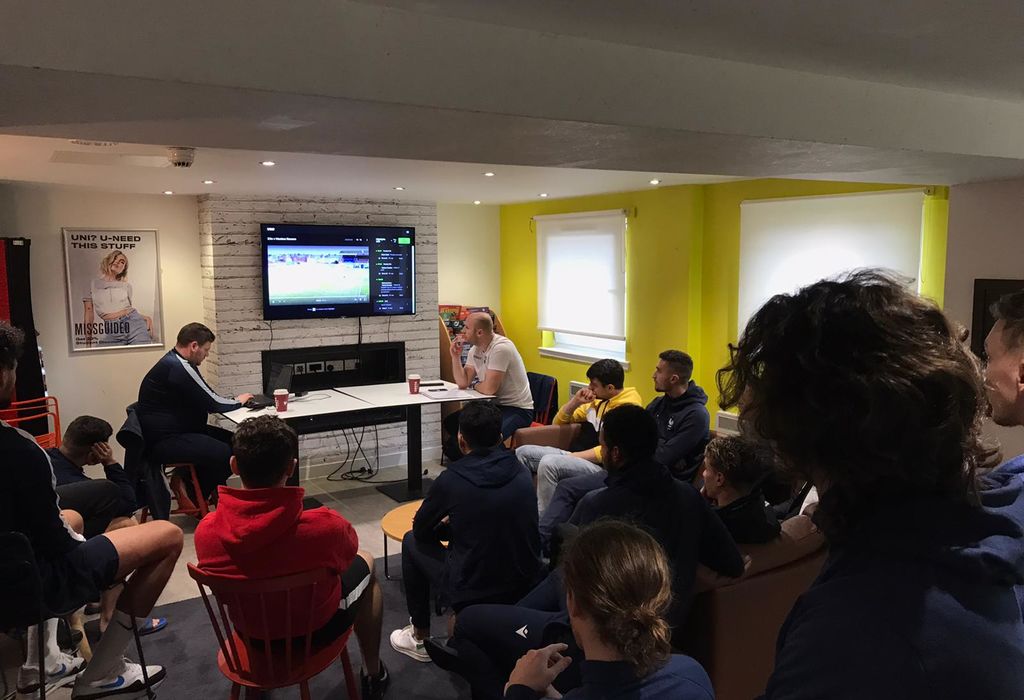 Video Analysis
In order to accelerate your progress and understanding of the game, we put an emphasis on video analysis at the academy. Like most professional clubs, we use this as an invaluable method for correcting mistakes and educating our players.
It is important to be able to analyse your position on the field, your reactions and behaviours on the, understand your strengths and weaknesses both individually and collectively. These video analysis sessions are part of our commitment to the physical, technical and tactical development of our players and help improve the group very effectively.
Work Flow and Discipline
At the academy you will need to manage your time effectively. You will be required to adapt your timetable for the gym, homework and visits as you wish in your spare time. We are here to support you with this, you will be required to develop a rigorous mindset and have a more mature and professional outlook at the Academy.
Being professional is a state of mind.
It's about giving you a framework, allowing you to develop your mind, and maximise your physical and technical progress. The best athletes are always the best students. They are the ones who understand the link between work and results.
Achieving your goals requires work, discipline, a good attitude and a more positive outlook that is not limited to the sports field. Our Academy is not a factory to produce professional athletes, though it is designed to produce a professional mindset : one that will prepares you for professional life.