Edusport Academy
A Dual Training Project
It is important to us that players understand the function of the academy and the long-term benefits of such a project. The Edusport Academy is a life-changing experience.
The academy is private, which means that like in many other schools, if you are selected and a place is offered, you will have to pay the registration fee.
The Edusport Academy is a private academy, not a training centre. We are not Real Madrid, PSG or FC Barcelona. Nor are we the Nike Academy or any other type of academy that seduces you by promising you a career as a professional player. The Edusport Academy is a human, educational and sporting project, which aims to trigger a change in your life, and to ensure you greater opportunities for your future, whether in football, rugby, basketball, dance or any other area.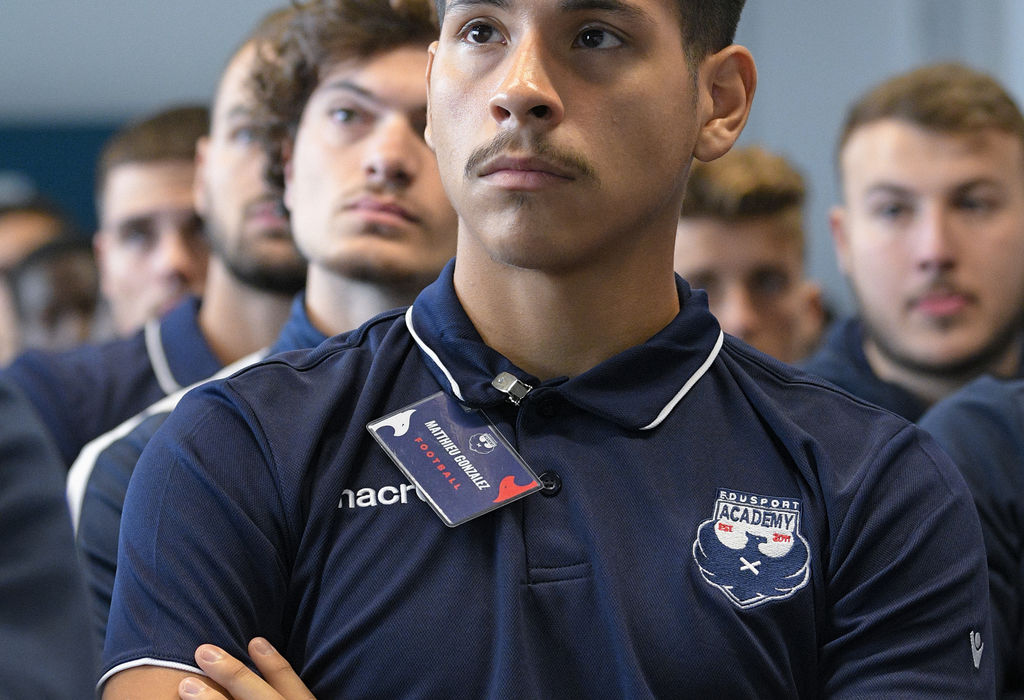 Funding
Invest in Your Future
Like many of our players before you, the most effective way to finance the project is to take out a student loan. Student credit is a credit that you don't start paying back until a few years after your year at the academy, and interest rates are very low to help students.
The official student status you will have in Scotland or in Malta makes you eligible for a student loan in France. If you are selected, we can then advise and guide you. We can also advise you if you do not have a solid guarantor to obtain a student loan.
Section Male
Sport training programme - Price : 3000£*
*Non-residential option for UK nationals only without accomodation
34 weeks
Professional training with qualified coaches
Training Kit
Transport to the training centre
League Fixtures
Organised Matches against Scottish Professional Clubs
Sports outings and cultural visits
Insurance
The price does not include the travels to or from Scotland or Malta
Section Male Football
Sport & Education programme - Scotland/Malta
Programmes : 3 months - 7850£/6 months - 14850£/9 months - 19850£
34, 24 or 12 weeks
Professional training with qualified coaches
Accommodation for programme duration including school holidays
Monthly Food Budget
Sport Management course in collaboration with the Johan Cruyff Institute*
10 hours of English per week
Recognized English Qualification (TOEIC)
Training Kit
Transport to the training centre
League Fixtures
Organised Matches against Scottish or Maltese Professional Clubs
Sports outings and cultural visits
Insurance

The price does not include the travels to or from Scotland or Malta
*depending on your immigration status
Section Male Rugby & Basketball
Sport & Education programme

Price : £14850
*Non-residential option for UK nationals only
26 weeks
Professional training with qualified coaches
Accommodation for programme duration including school holidays
Monthly Food Budget
10 hours of English per week
Recognized English Qualification (TOEIC)
Sport Management course in collaboration with the Johan Cruyff Institute*
Training Kit
Transport to the training centre
League Fixtures
Sports outings and cultural visits
The price does not include the travels to or from Scotland or Malta
*depending on your immigration status
Section Female : Football
Sport & Education programme
Price : £15850
34 Weeks
Professional training with qualified coaches
Accommodation for programme duration including school holidays
Monthly Food Budget
10 hours of English per week
Recognized English Qualification (TOEIC)
Sport Management course in collaboration with the Johan Cruyff Institute*
Training Kit
Transport to the training centre
League Fixtures
Sports outings and cultural visits
The price does not include the travels to or from Scotland or Malta
*depending on your immigration status